Today the White House announced its Christmas theme for the 2017 holiday season, "Time-Honored Traditions". First Lady Melania Trump selected this poignant theme paying homage to the past first families who made the White House their home with 200 years of beautiful Christmas traditions inside the White House. "The President, Barron, and I are very excited for our first Christmas in the White House," said Mrs. Melania Trump, "As with many families across the country, holiday traditions are very important to us. I hope when visiting the People's House this year, visitors will get a sense of being home for the holidays.  On behalf of my husband and Barron, I want to wish everyone a Merry Christmas and joyous holiday season."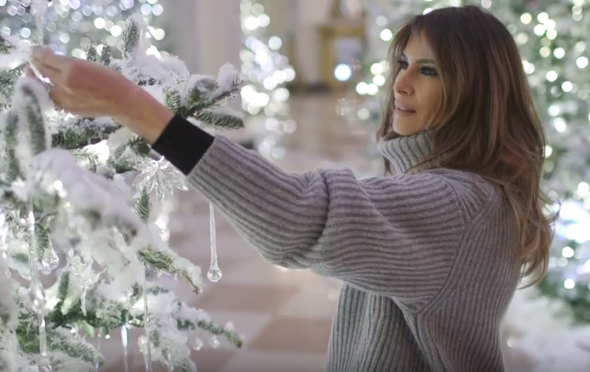 The First Lady honored some special White House traditions by highlighting past first family memories in the public rooms. For example, The Grand Foyer and Cross Halls were designed to echo the first themed Christmas at the White House, Mrs. Kennedy's "Nutcracker Suite" in 1961 and it also echoes a favorite of Mrs. Reagan, the many white, beautifully  flocked Christmas trees, which she so dearly loved. On the State Floor the tradition of the official White House Christmas tree being center stage remained in the Blue Room, which is decorated with glass ornaments depicting the seal of each State and territory, a tradition first began by First Lady Pat Nixon. In the China Room Mrs. Trump selected the regal Reagan china displayed for a family dinner the Trumps are celebrating.  When the thousands of guests enter the East Wing there will be a familiar sight of a recent tradition of paying tribute to Gold Star families with patriotic decorations.
In the State Dining Room the tradition of the gingerbread house continues as does the tradition of its design, a replica of the White House (The gingerbread house has been a replica of the White House since First Lady Laura Bush requested it in 2001). This year the Gingerbread house depicts the South Portico featuring Mrs. Trump's signature Christmas wreaths, mirroring the outside of the White House this year.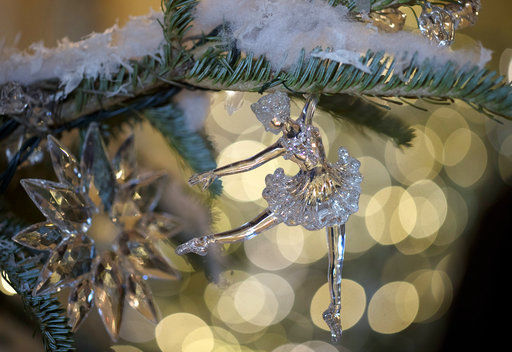 Mrs. Trump also created her first tradition, as seen on the gingerbread house and the outside of the Christmas program.  The entire outside of the White House is covered in beautiful wreaths constructed to make sure that they look great for those looking out through the windows from the inside as well. While other first ladies have decorated the White House with wreaths, none have adorned the exterior of the White House with so many Christmas wreaths, making this a signature of hers and beautifully highlighting the People's House for the season.