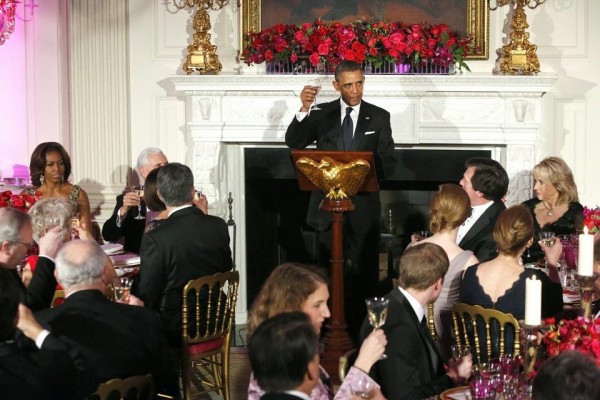 Sunday evening the President and First Lady hosted a beautiful time honored tradition, the 2014 Governors Dinner (formally the Governors Ball). Red was the color pallet of choice for the evening that included centerpieces of red roses that were complimented by the use of the Reagan china. The Reagan China has a wide red rim, former First Lady Nancy Reagan's favorite color, with a gold border. Of course, the menus included the Presidential seal laid above each place setting.
2014 Governors' Dinner Menu
Tuna Tartare
Baby Arugula, Bartlett Pears and Caramel Black Walnuts
Petite Filet with Maryland Crab Ravioli
Warm Meyer Lemon Pudding
(This was not the first time the White House has served Steamed Lemon Pudding for such an occasion. For the State Dinner in honor of British Prime Minister David Cameron and his wife Samantha the White House also served the popular dessert. For that formal event, the UK-style pudding was garnished with Idaho huckleberry sauce and paired with Newtown Pippin apples.)
This simplified version of the recipe below makes 6 individual servings: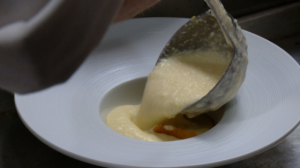 White House Steamed Lemon Pudding
Ingredients:
3 tablespoons butter, melted and cooled
3/4 cup sugar
1 tablespoon lemon zest
3 large eggs, separated
1/3 cup all purpose flour
1 cup milk
6 tablespoons lemon juice (70g)
1/8 teaspoon salt
Directions:
Heat oven to 320F
Butter six individual custard dishes and coat with sugar
Place a folded towel on bottom of a roasting pan and boil water for water bath
Whisk the sugar and flour together; set aside
In a separate bowl, whisk the yolks and butter until smooth; whisk in the milk, lemon juice, salt and lemon zest until blended; whisk the flour mixture into this. (Note: the batter will be very liquid)
Beat the egg whites until stiff and fold into the above mixture
Immediately ladle into the custard cups and place in the prepared baking pan filled halfway with hot water. Bake until the puddings are puffy and golden on top, about 50 minutes.
Serve warm
Bill Yosses is the White House Pastry Chef
http://www.whitehouse.gov/blog/2012/03/15/taste-uk-state-dinner-steamed-lemon-pudding
Pop singer Sara Bareilles was the featured performer following the dinner in the East Room, which was lighted in red for the occasion. She has performed at the White House before, and at Obama fundraisers.