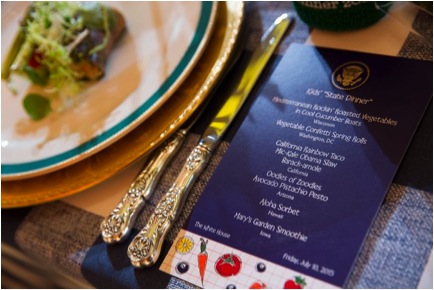 2016 White House Kids "State Dinner"
Mrs. Obama joins PBS and WGBH Boston to Launch the Fifth Nationwide Healthy Recipe Challenge in preparation for the annual Kids "State Dinner" This unique event was created by Mrs. Obama as a way to promote healthy eating and find the next generation of great American chefs!
The First Lady says: "The Kids' "State Dinner" is one of my favorite events to host at the White House, and I am thrilled to announce the fifth annual Healthy Lunchtime Challenge," said First Lady Michelle Obama. "Every year, I am amazed by the healthy, delicious dishes that kids across the country create, and I am excited to see what kids cook up this year!"
If you have a child that is between the ages of 8-12 years old you can enter their recipe here online, now through April 4, 2016. According to the White House regulations: One winner from each of the 50 states, the District of Columbia, and U.S. territories (Puerto Rico, Guam, American Samoa, the U.S. Virgin Islands, and the Northern Mariana Islands) will be chosen; and the prize is priceless! The winning chefs will serve as healthy food ambassadors for their state or territory and will be flown to Washington D.C. with a parent or guardian to attend the Kids' "State Dinner," hosted by Mrs. Obama at the White House this summer!
In order to be eligible, your child, with the help and support of an adult, must create and submit a lunch recipe that follows the MyPlate nutrition guidelines: Fruits and vegetables should make up about half of the recipe or dish, and it should also include whole grains, lean protein and low-fat dairy. This year, in celebration of the MyPlate, MyState initiative, we're encouraging entries to include local ingredients grown in your state, territory, or community.
Submissions must include information about how and why the recipe was created. The recipe also should be:
Healthy
Creative
Affordable
Delicious
Original
For more information and to apply please visit the PBS website here.