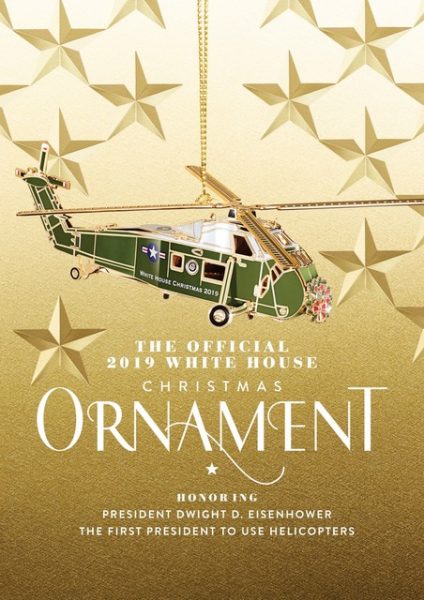 Today the official 2019 White House Christmas ornament, issued annually by the White House Historical Association, was released honoring President Dwight D. Eisenhower, the first U.S. President to use a helicopter. Purchasing the ornament not only brings a bit of White House history into your own family home but also keeps the Executive Mansion known as the White House in excellent condition. Proceeds from the ornament sales support the nonprofit, nonpartisan organization's mission of maintaining the historical rooms of the White House as well as acquiring historical furnishings and artwork for the permanent collection. The beautiful ornament is in the shape of the iconic green presidential helicopter and is made by a veteran-founded small business in Rhode Island. 
Since the inception of the series, most ornaments have paid tribute to presidential administrations in chronological order, with few exceptions. People from all over the world collect the ornaments and also buy them as gifts. The first family always receives an ample supply to give away.  President Bill Clinton gave a 1996 ornament to Bob Dole, his opponent in the presidential race that year. Marianne Gingrich, wife of former House Speaker Newt Gingrich, regularly buys 100 or so to give to family members and friends.

The ornaments are sold at the White House Visitor Center as well as through the White House Historical Association's online shop (https://www.whitehousehistory.org/2019). They are also resold by museum shops, many embassies in Washington, and organizations that purchase them in bulk and resell them for their own fund-raisers.