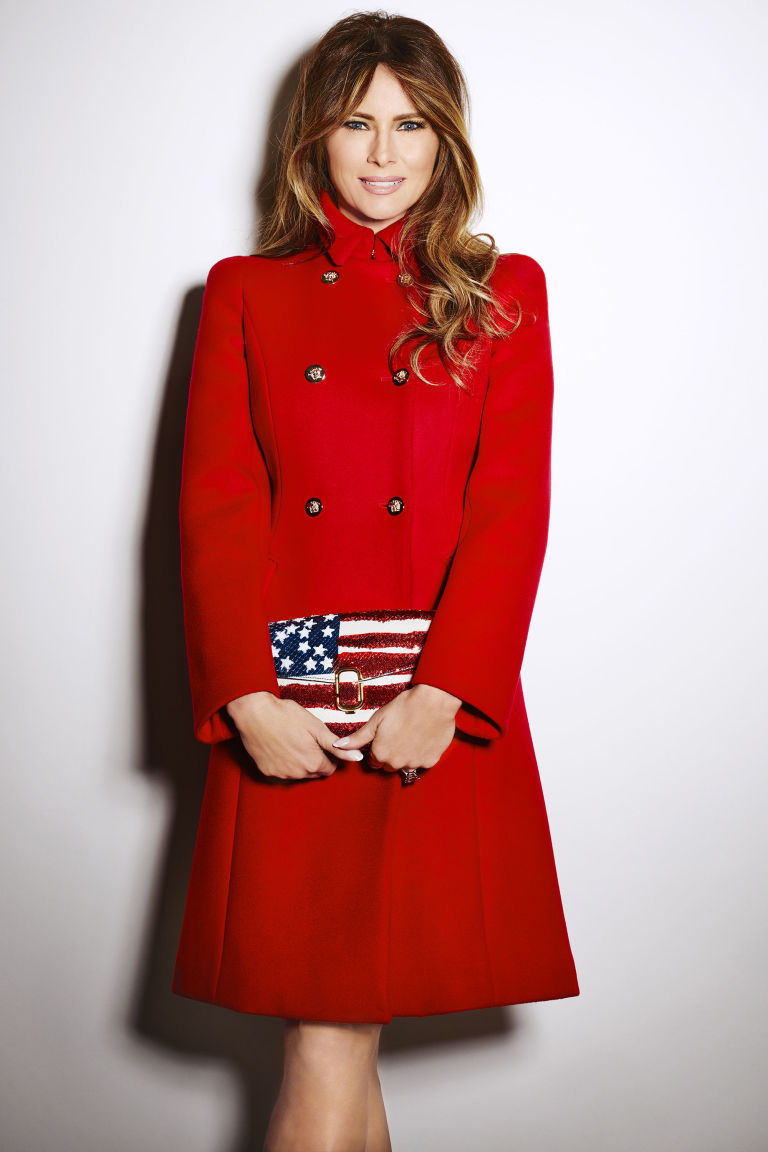 In just a few short weeks we will have a new First Lady, and I suspect she will be one of the most iconic when it comes to fashion!  I can't wait to see who Mrs. Trump will have selected for her historic Inaugural Gown!
The Fifty-Eighth Presidential Inauguration is just around the corner on January 20, and "White House Wednesdays" thought it would be fun to take a look back at one of the highlights of every Presidential Inauguration: the First Lady's ball gown.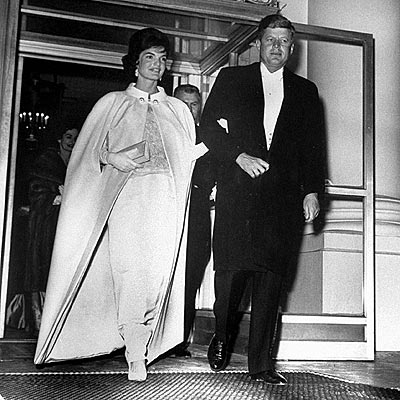 JACKIE KENNEDY
In 1961, the 31-year-old First Lady earned her fashion icon status from the beginning, stepping out with President John F. Kennedy in this off-white sleeveless gown of silk chiffon over peau d'ange and cape she designed herself, with the help of Bergdorf Goodman's Ethan Frankau. Its strapless bodice under the chiffon covering is encrusted with brilliants and embroidered with silver thread.   Along with a description of the inaugural wardrobe, the Washington Post reported that Mrs. Kennedy's "career as a major fashion influence was beginning impressively."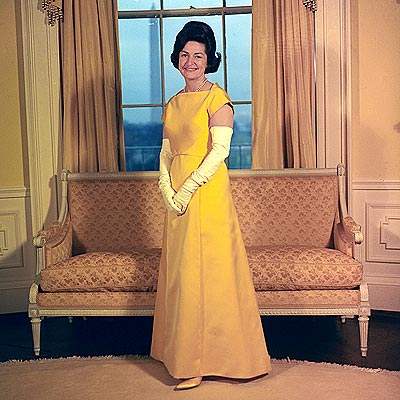 LADY BIRD JOHNSON
President Johnson's wife went by her nickname "Lady Bird" instead of her given name Claudia, and the Texan went to the 1965 inauguration in a bright yellow silk gown by John Moore.  Aware of the tradition of donating the dress for exhibit at the Smithsonian, Mrs. Johnson chose a simple design that she thought would age well.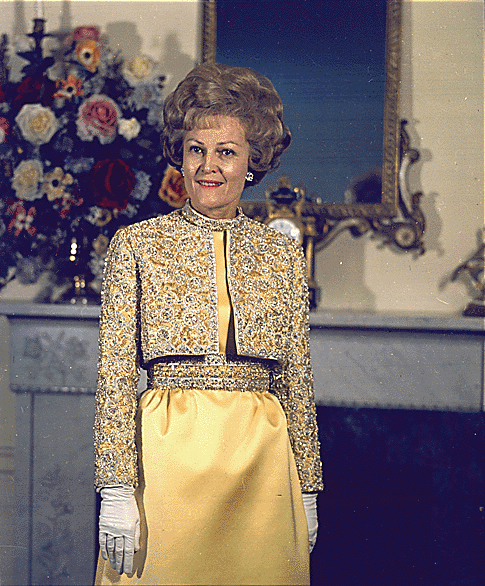 PATRICIA NIXON
In 1969, First Lady Patricia Nixon celebrated her husband's presidency with a mimosa-hued dress designed by Karen Stark for Harvey Berin. It was embroidered in gold and silver and encrusted with Austrian crystals and had a matching embroidered cropped jacket.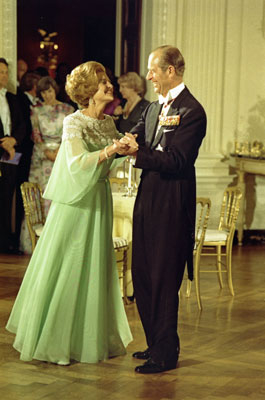 BETTY FORD
First Lady Betty Ford did not have a Inaugural Ball since her husband became President following Richard Nixon's resignation however you can see one of her beautiful ball gowns from the State Dinner she held for Queen Elizabeth II and Prince Phillip in 1976.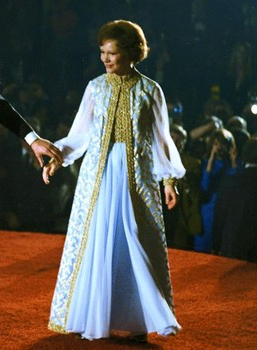 ROSALYNN CARTER
First Lady Rosalynn Carter wore a dress that featured chiffon material with gold trimming on the neck, waist, cuffs and bodice of her gown. Atop this dress, she wore a matching gold embroidered, sleeveless coat. The off-the-rack gown was designed by Mary Matise for Jimmae.  She had worn the dress six years earlier, in 1971, to her husband's inauguration as governor of Georgia.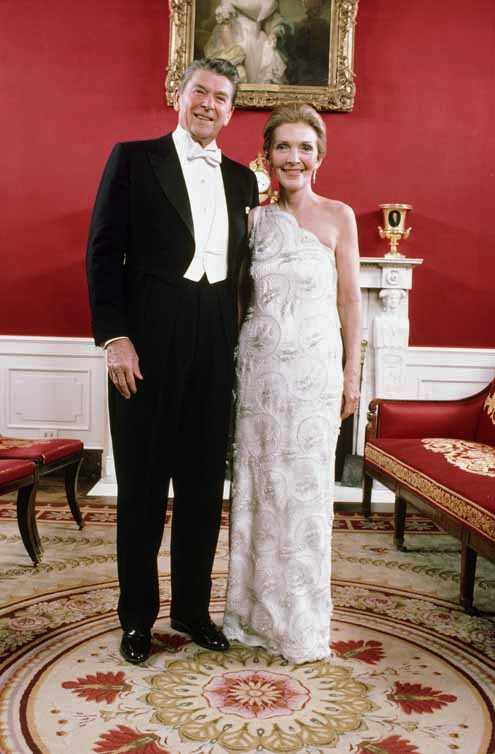 NANCY REAGAN
Along with her husband First Lady Nancy Reagan ushered in a new era of glamour at the White House in 1981, beginning with her embroidered lace single-shoulder inaugural gown by designer James Galanos. In interviews, Galanos said that he wanted to make Mrs. Reagan look glamorous, "… elegant and in keeping with the new formality."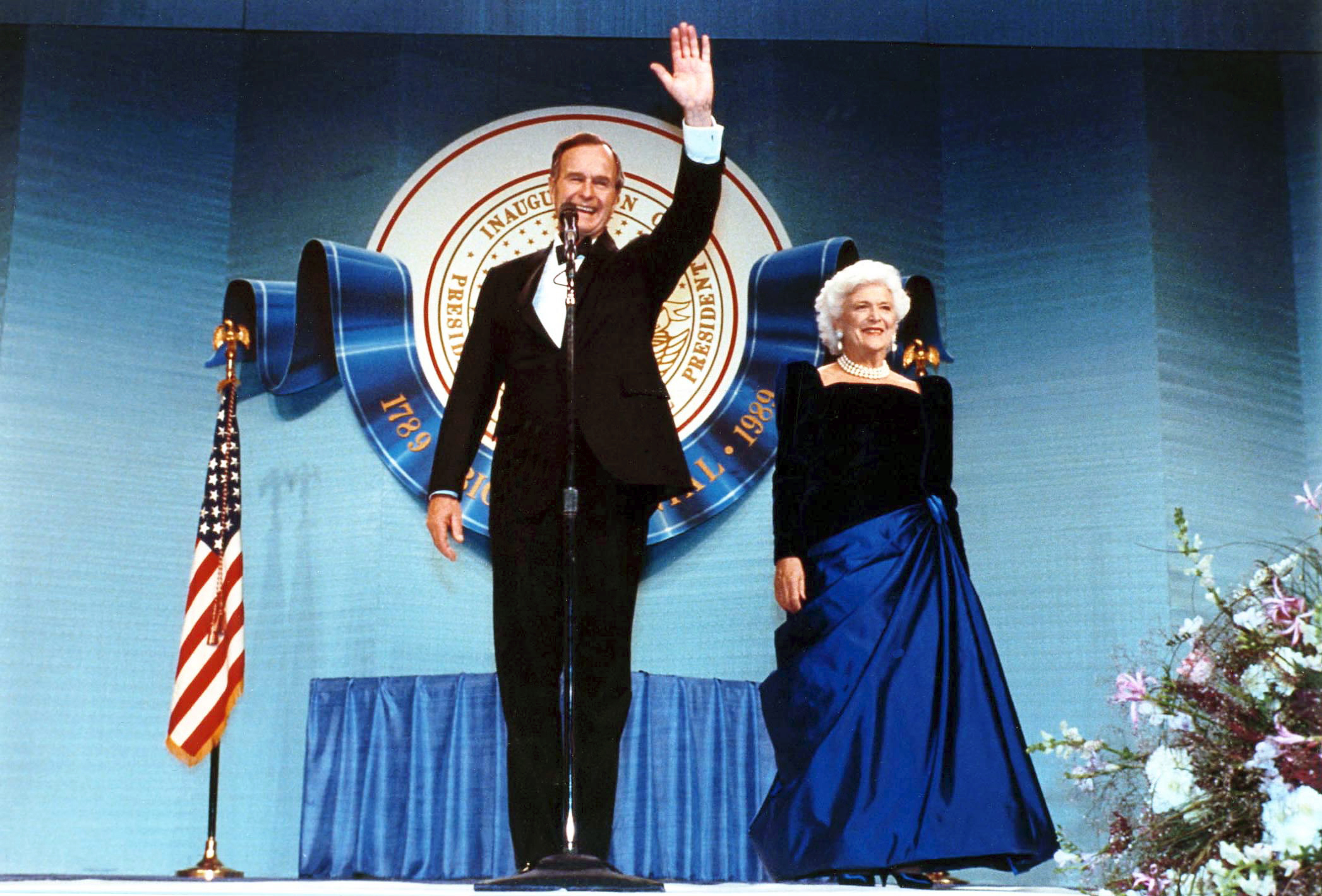 BARBARA BUSH
For her 1989 inaugural gown, Mrs. Bush chose a sapphire velvet-and-satin gown from designer Arnold Scaasi. Scaasi noted that Mrs. Bush was suddenly "the most glamorous grandmother in the United States." The First Lady was also known for her trademark triple-strand of pearls, which she wore, of course.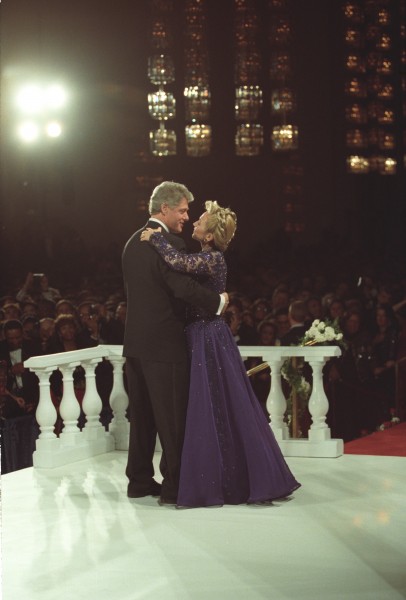 HILLARY CLINTON
The former first lady of Arkansas wore this violet beaded lace sheath gown with iridescent blue velvet silk mousseline overskirt for her husband's inaugural. The dress was designed by Sarah Phillips and made by Barbara Matera Ltd., a New York theatrical costume maker. For Clinton's second inauguration, she wore a lace gown by Oscar de la Renta.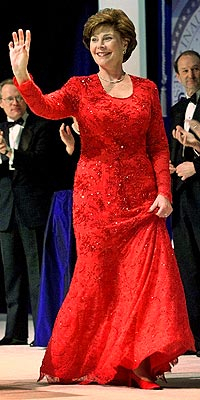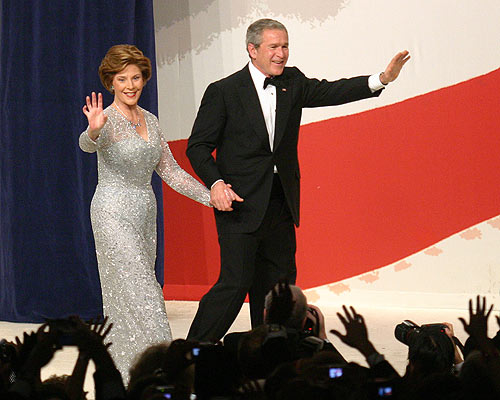 LAURA BUSH
For the 2001 Inaugural Ball First Lady Laura Bush chose a crystal-embellished gown in vivid ruby from Texas designer Michael Faircloth. The Chantilly lace design earned Faircloth a very important accolade. For her husband's second Inaugural the First lady chose a Oscar de la Renta silver design.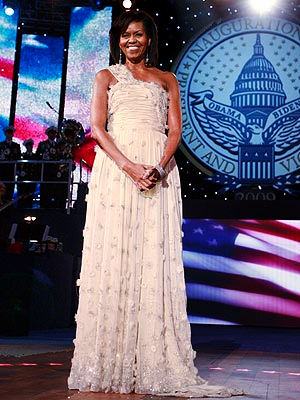 MICHELLE OBAMA
First Lady Michelle Obama wore this one-shouldered white silk chiffon gown embellished with organza flowers with Swarovski crystal centers to the 2009 inaugural balls. It was created by Jason Wu, who intended to symbolize hope in the design. No details of the dress were released before the balls and Wu did not know that Mrs. Obama had selected his design, until he saw it on television.