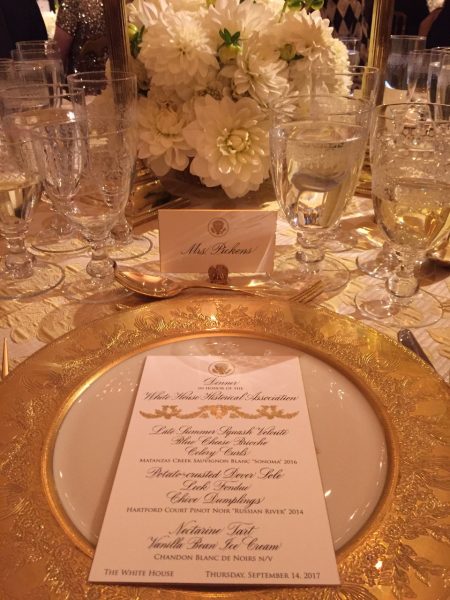 President and Mrs. Trump have yet to host an official White House State Dinner but they have quietly been entertaining guests at intimate dinners at Mara Largo, Bedminster, and the White House.

During the National Governor's Association annual conference the President and First Lady continued the tradition of hosting our nation's Governors for a social dinner called The Governor's Ball. Last Thursday, Mrs. Trump paid homage to the original work of Mrs. Kennedy with a reception and dinner in honor of the White House Historical Association, which was established by Mrs. Kennedy in 1961.
The invitation-only black-tie dinner featured several historical items displayed in the East Room of the White House for guests to view up close. Such items from the association included: President William McKinley's monogrammed walking cane, Mrs. Edith Roosevelt's custom fan, President Abraham Lincoln's scheduling book, President Ronald Reagan's personal White House diary, a hand-written note from Mrs. Kennedy and a 1st edition copy of the White House Historical Assoication guide, a display of hand painted and calligraphed White House menus, programs and invirations from past events such as the State Dinner in honor of Her Majesty Queen Elizaebth II, and a partially refurbished Blue Room chair purchased by President James Monroe from France.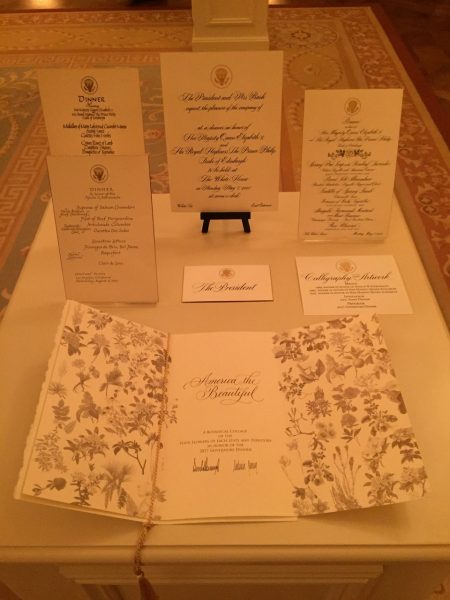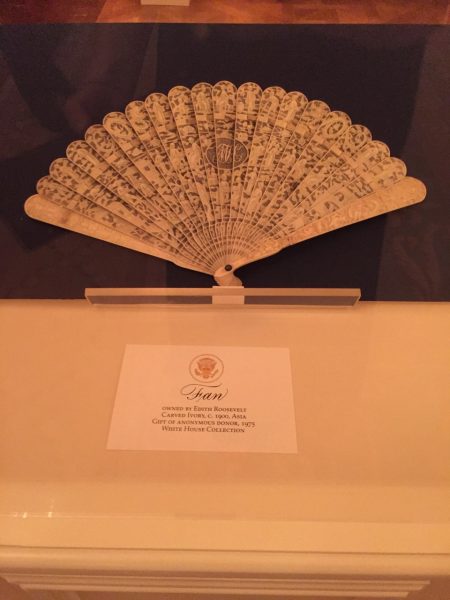 The dinner took place in the State Dining Room with a unique set up that included the rectangular head table in the center of the room with the guests at round tables. Mrs. Trump selected the Gold White House Bicenetinial China Service for dinner that included a gold and white table cloth with white floral arrangements. The custom menu incldued a hand painted gold replica of the relief on the walls of the State Dining Room. As the story goes, Mrs. Trump noticed the relief and commented on how much she liked it to her Social Secretary Rickie Niceta. Remembering that moment, she asked the White House calligraphers if they could add it to the menu for guests. 
After remarks by both President and Mrs. Trump, dinner was served.