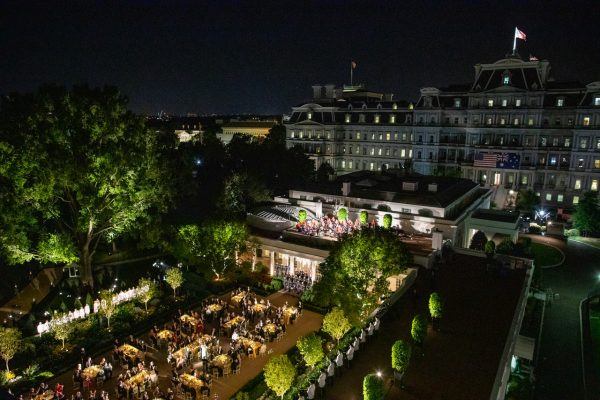 For their second Official State Visit, President and Mrs. Trump welcomed Prime Minister of Australia Scott Morrison and his wife, Jenny, to the White House on September 20, 2019. Again, Mrs. Trump proved to the world that she is an exceptional White House hostess. This time, she planned an alfresco dinner and evening in the White House Rose Garden.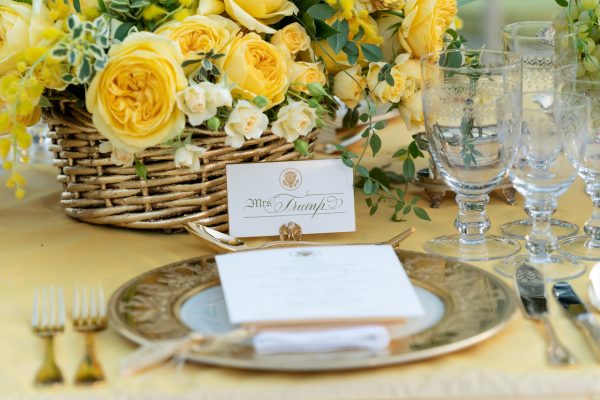 The first lady characteristically carefully planned all of the details for the exquisite dinner. In a nod to Australia's national colors and floral emblem, the golden wattle, green and gold were used throughout the decor. Alternating round and rectangle tables draped in beautiful shades of yellow and green linens displayed centerpieces featuring more than 2,500 yellow-hued roses in gold woven baskets. The Reverend Franklin Graham gave a warm invocation before the celebratory meal.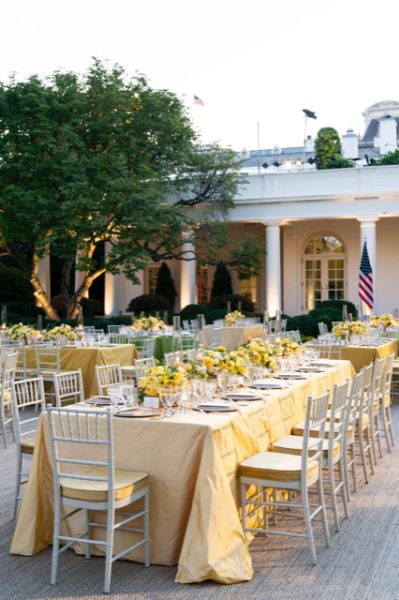 Continuing President and Mrs. Trump's desire to highlight the U.S. military in as many ways as possible at all White House events, the entertainment for the evening was the largest gathering ever of premier military musicians for a state dinner at the Executive Residence. It featured over 150 members from choral and musical groups from the United States Army, Marine Corps, Navy, and Air Force that included the "The President's Own" United States Marine Chamber Orchestra, the United States Army Chorus, the United States Army Herald Trumpets, the United States Army Strings, the United States Navy Band Sea Chanters, the United States Air Force Strings and the United States Air Force Singing Sergeants. The soaring voices surrounded the dinner guests entirely from all sides — and at every level: the talented members of the military set their stage on the roof overlooking the Rose Garden, along the West Colonnade, and along the outer edges of the Garden.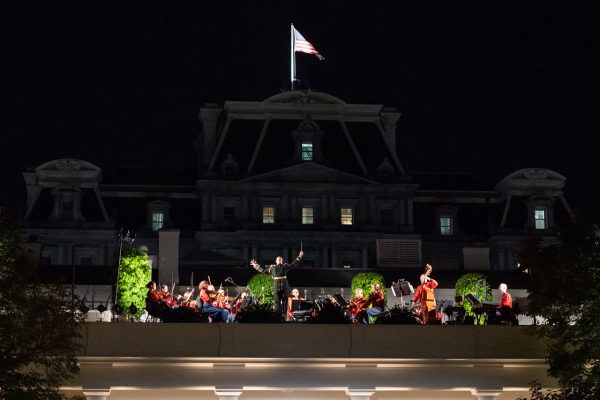 Even in terms of White House extravagance, the event's dining and music were extraordinary — and Mrs. Trump and her staff brought the outdoor setting to a stunning level, unlike any state dinner before. In her column in the New York Post, Australian reporter Miranda Devine wrote, "'It was the most magnificent, spellbinding, magical night crafted out of the imagination of Mrs. Trump,' said Morrison afterward, admitting to being 'overcome' by tears when the military orchestra played the iconic Australian song 'Waltzing Matilda.' Australian golfer Greg Norman, who had been seated next to Mrs. Trump, remarked, '[It was] the best event I have ever attended. EVER!' Henry Kissinger reportedly told Trump Chief of Staff Mick Mulvaney it was one of the best official functions he had attended, high praise from a 96-year-old statesman whose career serving presidents began in the Nixon administration."