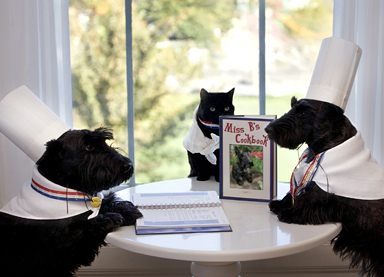 Above – President George W. Bush's pets: Barney, Miss Beazley and India the cat pose for the cover of a cookbook presented to Mrs. Bush on her birthday by her staff.
White House Sweet Dough Butter Cookies
From the Obamas 2011 Halloween Treats
Last year at the White House each child that passed through the North Portico received a cookie made from this recipe plus some dried fruit and White House M &Ms
*Dough must be chilled overnight.
*Preheat the oven to 350F.
Ingredients
1 lb Sugar
2 lbs Butter
3 lbs All Purpose Flour
3 Eggs
1 tsp Vanilla
1 tsp Salt
Method
1. Mix the butter and sugar till soft and well beaten.
2. Then add eggs, vanilla, salt and half the flour. Beat on slow speed till mixed, then add the rest of the flour and mix until incorporated.
3. Push flat onto a cookie sheet and refrigerate overnight.
4. The next day, roll dough out to one quarter inch thick, and cut out cookie shapes with cookie cutter.
5. Bake at 350F for 14 minutes and then allow to cool.
Decorate as desired. Number of cookie servings varies depending on size of cookies cut.
White House Grilled Garden Pizza
Just last week Mrs. Obama, and White House chefs joined children to harvest vegetables during the third annual White House Kitchen Garden Fall harvest.  With some of those fabulous vegetables White House Executive Chef Cristeta Comerford made a wonderful and shared the recipe:
1 12 inch pizza dough,  can use freezer dough
2 tbsp olive oil
1 eggplant, cut into coins, ½ inch thick
1 sweet potato,  peeled, sliced thinly
1 red pepper,  sliced, ¼ inch thick
salt and pepper to taste
6 oz.  tomato sauce, your favorite brand
6 oz.  shredded mozzarella, lowfat
chopped fresh basil, for garnish.
Toss the vegetables in olive oil and salt and pepper.  Grill until softened but still a bit crunchy.  Set aside.
Flatten the pizza dough  until about 1/8 inch thick.  Brush with olive oil.   Season with salt and pepper.  Grill on both sides for about 2 minutes on each side.  Top with the tomato sauce,  mozzarella and grilled veggies.  Garnish with basil.  Serve immediately.  Serves 4
Another one of Mrs. Bush's favorites was this fabulous meat marinade: