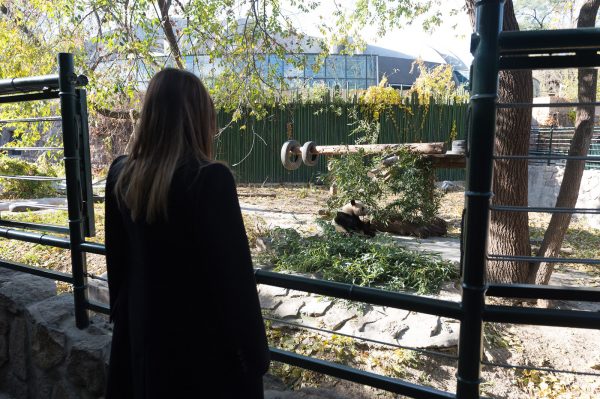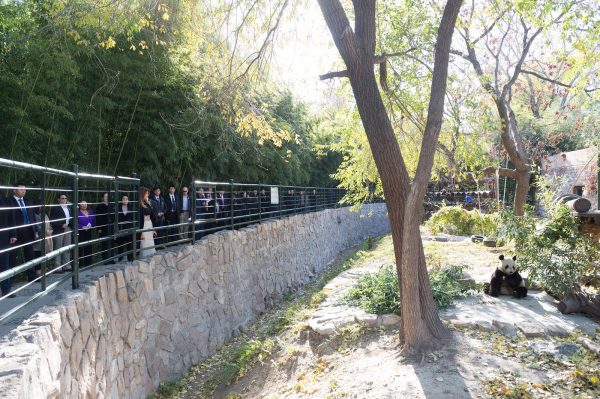 President and Mrs. Trump just completed their historic 12-day Indo-Pacific diplomatic trip to Japan, The Republic of Korea, China, Vietnam and the Phillippines. This official visit to Asia is the longest tour of the continent by a sitting President since George H.W. Bush in 1991. No President has visited more countries in the region on any one trip since President George W. Bush did in 2003. During this twelve-day period, President and Mrs. Trump spent three days in China.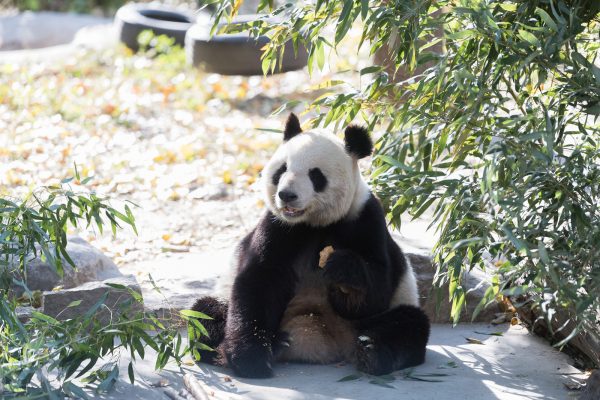 On day one, the First Couple participated in an official airport arrival ceremony, welcome tea, and an extremely rare private tour, and a couples dinner at the Forbidden City with President Xi and Madame Peng.  On day two Mrs. Trump and Madame Peng went on a tour of Banchang Primary School. The First Lady then had a U.S. Embassy event and attended a state dinner at the Great Hall of the People. On the final day in China, Mrs. Trump visited the Great Wall of China and Beijing Zoo.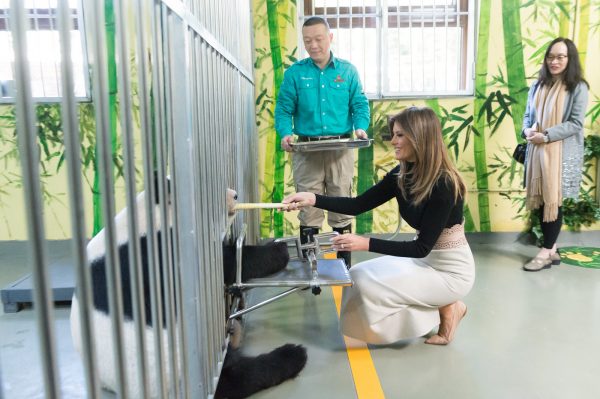 While at the famous zoo Mrs. Trump interacted with the giant pandas- which has become somewhat of a First Lady tradition.  "Wonderful to meet Gu Gu," the first lady tweeted along with a picture of her in the giant panda's enclosure.  Upon her arrival to the zoo, Mrs. Trump was greeted by a group of school children waving both Chinese and American flags who later that day also sang for her. "I have a present for you from the United States," Mrs. Trump told the children, handing out the stuffed bald eagles. "You have a panda here, we have an eagle in the United States."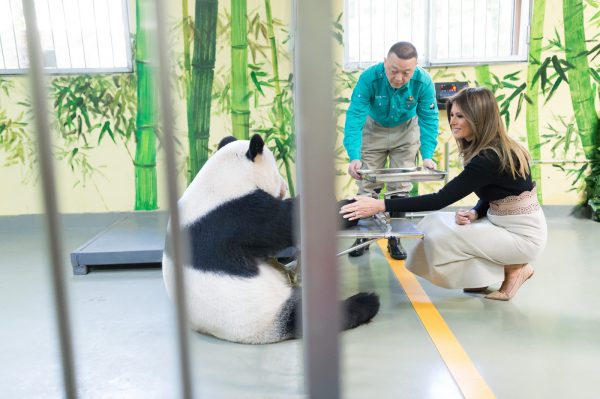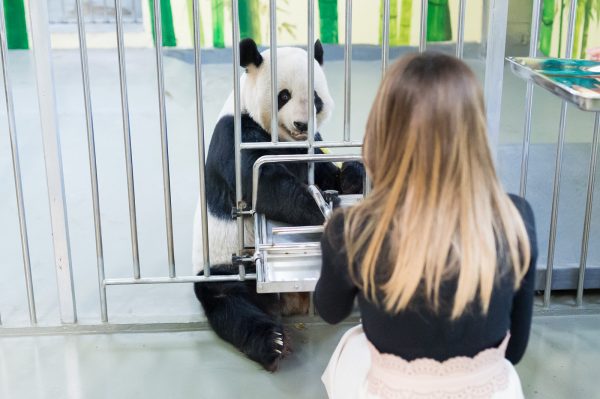 The Beijing Zoo is home to eight giant pandas, including one set of twins, but Gu Gu is the "star of the zoo," according to zoo director Li Xiaoguang.  First Ladies and Pandas are not a new duo- and Pandas as a Goodwill Ambassador date back to the Nixon Administration.  In 1972 The Nixon Administration went to China to open relations with the United States, and during this historic journey, Mrs. Nixon mentioned to Chinese Premier Zhou En-lai how much she enjoyed seeing the pandas.  Following that exchange, one of the most popular gifts ever to be received by the United States from China arrived: a pair of giant pandas Ling-Ling and Hsing-Hsing!  Nixon responded by sending back a pair of musk oxen, Milton and Matilda.  20,000 people visited the pandas the first day they were on display at the National Zoo in Washington, D.C. and an additional estimated 1.1 million visitors also came to see them the first year. The pandas were wildly popular and China's gift was seen as an enormous diplomatic success.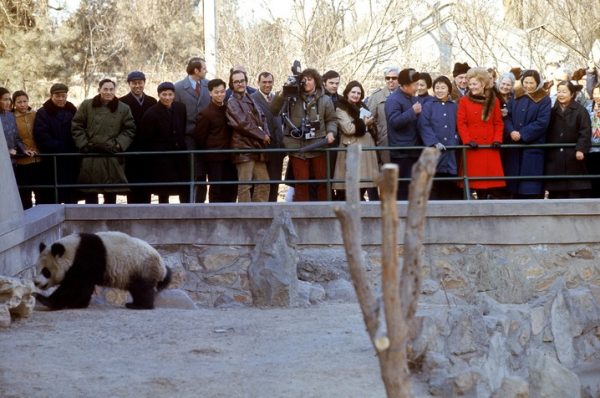 Over four decades of scientific collaboration between the United States and China have focused around giant panda conservation.  Even Mrs. Obama couldn't let an opportunity to see Pandas pass during her Asian trip posting in her travel journal  "Today is the last day of my trip, and I couldn't leave China without seeing the Chengdu Panda Base", a location where scientists study about 50 pandas ranging in age from infancy to adulthood. Their goal is to increase the population through breeding, conservation, and research on how the bears live and grow.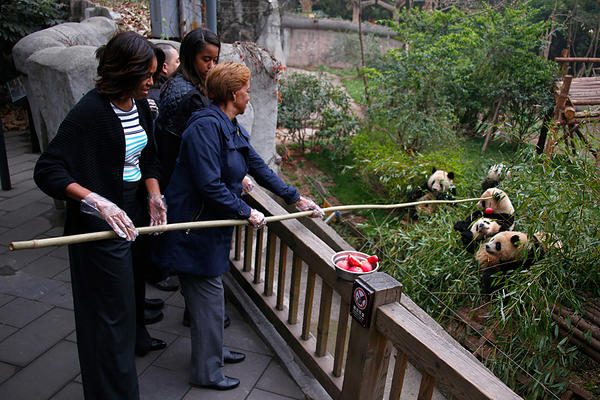 China's use of giant pandas as diplomatic gifts to other countries dates as far back as the Tang Dynasty when Empress Wu Zetian (625-705)  sent a pair of pandas to the emperor of Japan.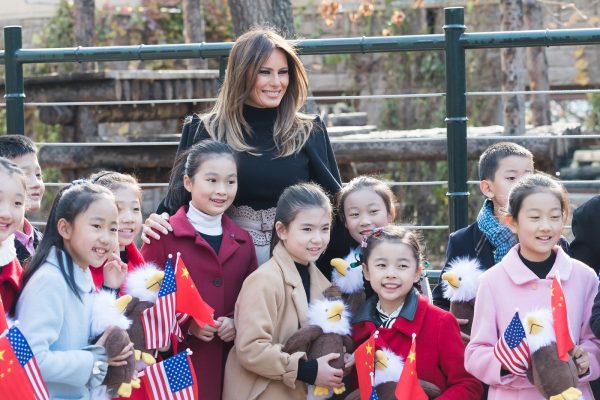 While some view these events as photo ops they are important diplomatic gestures of goodwill and common bonds that go a long way to defrost tensions, show mutual respect on the world stage.  "This visit to China is something I will never forget," said First Lady Melania Trump. "President Xi and Madame Peng were gracious hosts, and I was honored to participate in many cultural experiences and personal conversations. I believe both of our countries made great strides during this trip, and I look forward to future visits."