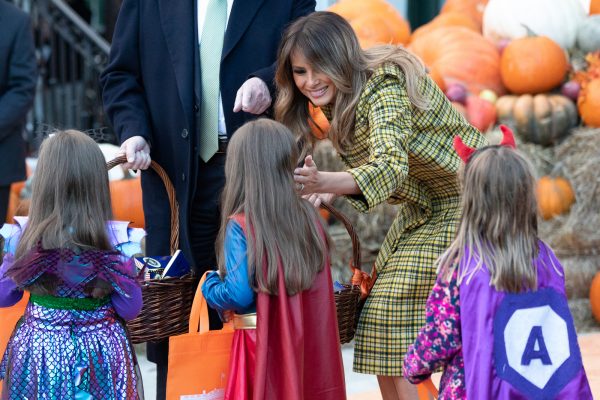 President and Mrs. Trump continued the tradition of hosting families at the White House on the South Lawn for Halloween.  The First Lady invited hundreds of military families and local school children, and their parents, dressed as witches, goblins, storm troopers and more, lined up at the White House for trick or treating with the President and First Lady.  The trick or treaters enjoyed music by the Air Force's Rolling Strings playing spooky festive songs including Harry Potter, Thriller, Bewitched, Phantom of the Opera, The Adams Family, and more along the steps of the Halloween trimmed South Colonnade.
An elegant fall harvest would be the best way to describe the beautiful exterior décor of the White House.  Corn stalks embedded with twinkle lights covered the columns of the South colonnade highlighting the Scottish stonemasons work of elaborate carving on the façade of the home.  Four festive trees full of yellow and orange colored leaves cascaded down the steps alongside the Air Force string players.  Flanking the door and expanding across the base of the entrance were haystacks and hundreds of beautifully placed orange, white and green pumpkins and gourds and baskets of dark red apples.  A large elegant custom sign reading Halloween was placed centered on the lower portion of the balcony, lit by additional lighting as well as the usually placed antique lanterns.  All three large planters were filled perfectly with orange mums.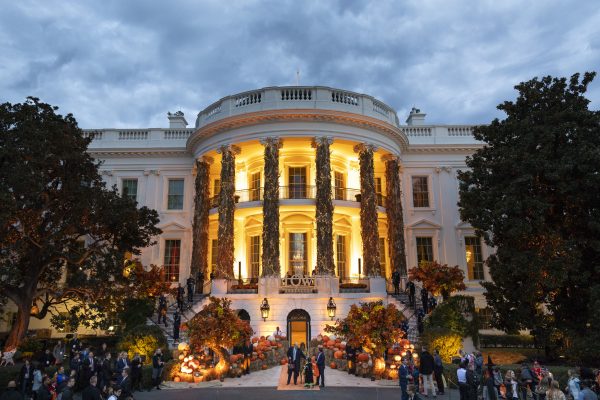 Federal government agencies and departments also participated in the Halloween festivities.  Children enjoyed a moon carpet and space suit brought by NASA officials, and robotics displays were set up by First Lego Robotics League from the Education department. The Ag department brought in a tractor that looked great with the décor. Health and Human Services brought an ambulance. Children and parents alike were also able to see the presidential limo, known affectionally as The Beast.
Custom orange tote bags featuring the White House were given to children to trick or treat the President and First Lady along with "Commemorative candy" including Hershey's chocolate bars and Twizzlers in special boxes designed with the Presidential seal as well as the signatures by both the First Lady and President, creating the perfect memento for the occasion.
A few days prior, White House staff in the Eisenhower Executive Office Building also celebrated Halloween. Many offices decorated their doors and offices so the children of staff all dressed up, could come and trick or treat roaming the iconic checkerboard marble floors.