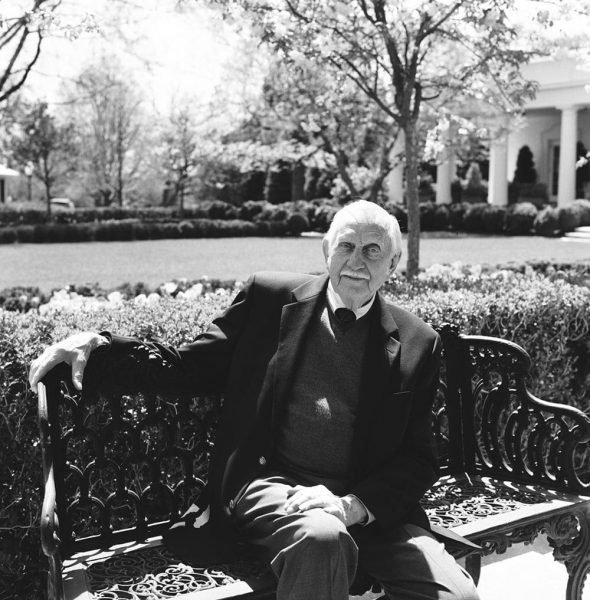 Irvin Williams, White House executive grounds superintendent, in 2004. (Tina Hager/George W. Bush Presidential Library and Museum)
When many people think of who is behind the world famous White House Rose Garden most think of former First Lady Jacqueline Kennedy or Bunny Mellon. It was during the Kennedy Administration that the garden really took prominence in its current form.  But there is one unsung hero, Mr. Irvin Williams, that got little attention but was dedicated and committed to all of the White House grounds that we remember today. 
Williams passed away at 92 years old November 7th after serving as the White House Gardner for 46 years. A career spanning the presidencies of John F. Kennedy to George W. Bush, he was an expert horticulturist and walking White House grounds historian. As the last surviving member of the team that gave us the Rose Garden as we know it today but working for the National Park Service, he had worked on White House projects dating back to President Truman's time. The White House Historical Association said, "Irvin Williams saw Caroline Kennedy ride her pony through the White House gardens, Bill Clinton's cat Socks get tangled in a willow tree, and President Jimmy Carter and his daughter, Amy, build a treehouse together during his time as the White House head gardener." 
Imagine the memories, the White House pets, the stories and the sheer beauty of the landscape of the 18.5-acre property he so diligently cared for over those many years. For us, his legacy will live on in the trees, plants, and designers he left behind for all to see, at every Easter Egg Roll, State Arrival, Marine One landing, Rose Garden ceremony and the White House Garden Tours.