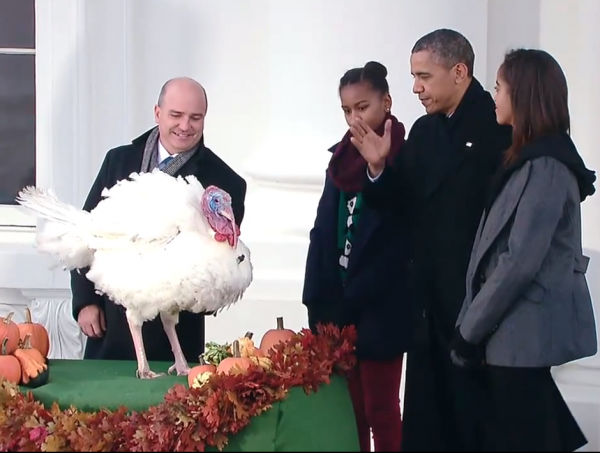 We've come a long way since 11-year-old Tad Lincoln convinced his father to "adopt" a turkey named Jack in 1863.
Today, President Obama pardoned two 20-week-old, 38-pound turkeys named Popcorn and Caramel — and announced Popcorn as the official "National Thanksgiving Turkey," after the American public weighed in on their favorites via Twitter, Facebook, and Instagram.
The President noted:
The competition was stiff, but we can officially declare that Popcorn is the winner — proving that even a turkey with a funny name can find a place in politics. As for Caramel, he's sticking around, and he's already busy raising money for his next campaign.
And so, all "Hunger Games" references aside, both turkeys will live. Popcorn and Caramel will spend the rest of their natural days in the historic rolling pastures of Morven Park's Turkey Hill — located at the home of former Virginia governor Westmoreland Davis in Leesburg, Virginia.
Depending on whom you ask, President Abraham Lincoln was the first to spare a turkey, when his son Tad "adopted" the bird intended for Christmas dinner and named it Jack. As President Clinton noted in a speech in 1997, "President Lincoln had no choice but to give Jack the full run of the White House."
The official annual presentation of a Thanksgiving turkey began under President Harry Truman, but there wouldn't be any official "pardoning" for several decades. According to his presidential library's documents, President Eisenhower, too, appears to have eaten the birds presented to him over the course of his two terms in office.
President Kennedy sent a particularly scrawny turkey back to the farm in 1963, saying "we'll let this one grow." (Not quite the stuff of empathetic pardons.)
It was President Ronald Reagan that issued the first "pardon" on record, when he was presented with a turkey named Charlie in 1987 — Charlie was thereby sent to a petting zoo — and President George H.W. Bush made the turkey pardon a permanent fixture in the American presidency.
Since then, pardoned turkeys have been sent to a variety of pastoral American venues — from Frying Pan Park in Fairfax, Virginia, to the Disneyland Resort in California to Mount Vernon — the home and estate of President George Washington.
As the President said today, "The Office of the Presidency — the most powerful position in the world — brings with it many awesome and solemn responsibilities. This is not one of them."
Popcorn and Caramel might disagree.
WATCH THE VIDEO HERE: https://www.youtube.com/watch?v=2MVfiSICW2s#t=260