As President Obama pardoned "Cobbler" and "Gobbler" today at the annual White House turkey pardoning, I could not help but remember my most favorite White House turkey story. Last year on the Fox News show The Five, Dana Perino, former White House press secretary, shared the funny story of President Bush saving the 2006 Turkey from Barney and Miss Beazley.  The story was so funny we actually held going to print on Pets at the White House until we could confirm all the details and get the perfect photo to accompany it – see below. Thank you to Dana and everyone else for this great story! Happy Thanksgiving!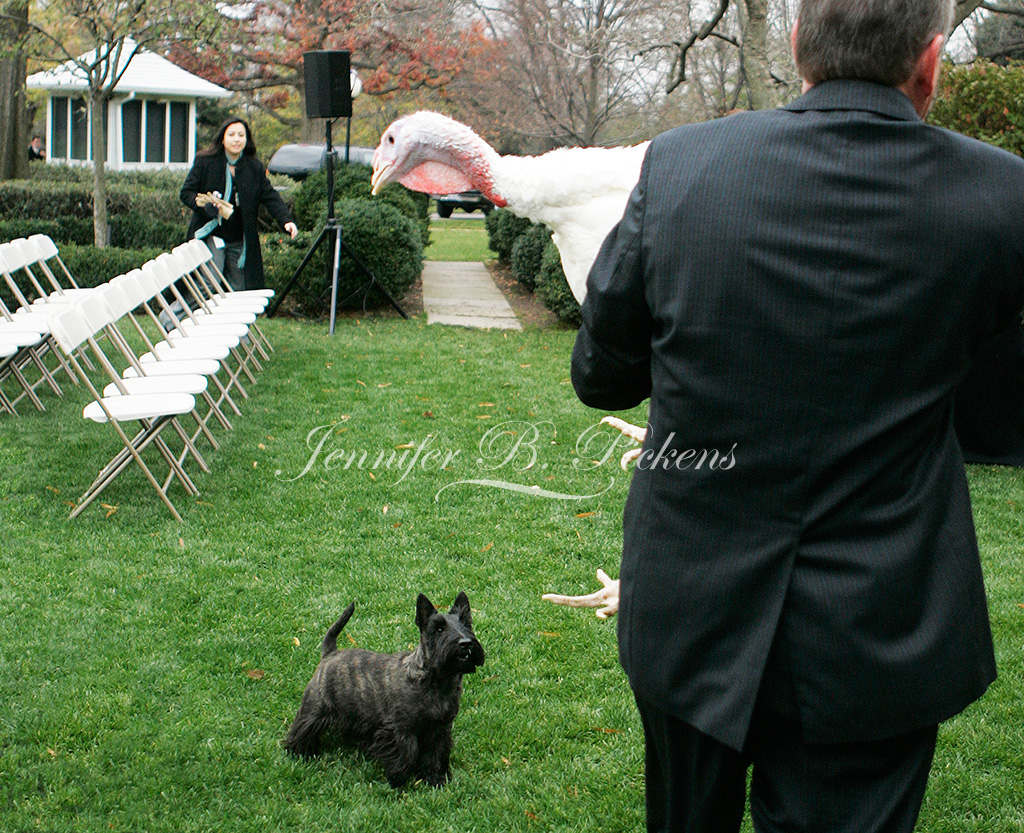 Exerpt from Pets at the White House
In 2006, Barney and Beazley had a close encounter of a turkey kind, during the pardoning event, an annual White House tradition since 1989 (when President George H.W. Bush officially pardoned a Thanksgiving turkey). On this day, President George W. Bush was having his weekly update with the FBI director. Both his secretary and personal aide were out, so David Sherzer, special projects coordinator in the Oval Office, was the only staff member manning the front office. Also out that day were White House Grounds Superintendent Dale Haney, the unofficial dog handler, and Sam Sutton, one of the President's valets who acted as backup handler.
Barney and Beazley were hanging out in the Rose Garden outside the Oval Office, minding their own business, while the Park Service guys set up chairs for the event. But when the people from the National Turkey Federation arrived, the dogs started barking.
"The President yelled out to me to get Dale to the dogs," Sherzer recalls. "I explained to him that both Dale and Sam were out, but I would get Robert, one of his other valets. Robert was on the third floor of the residence—probably a five-minute walk, so it took him a while to come down. Meanwhile, even though the dogs were going crazy, the people from the National Turkey Federation let the turkey, Flyer, out of its cage. The dogs went ballistic, chasing Flyer from one end of the Rose Garden to the other. Feathers were flying everywhere."
"The President burst out of his FBI briefing and shouted at me, 'Where is Robert?!?!' Then, as the Park Service and National Turkey Federation people watched stunned, the President chased down Barney and Beazley. It would have been a complete disaster if the dogs had eaten the turkey before it could be pardoned—so President Bush saved the turkey's life twice that day."