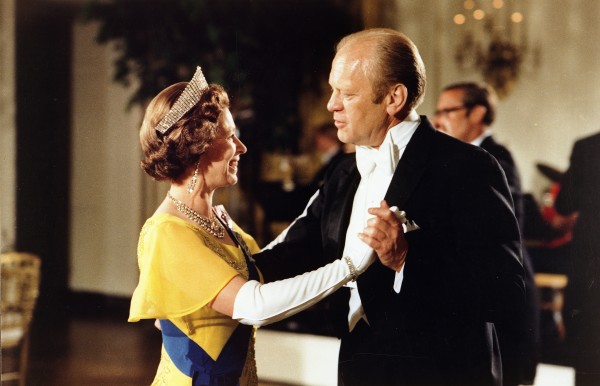 Today, Her Majesty The Queen Elizabeth II turns 90 years old.  Not only is this a momentous occasion in terms of living a long life, she also becomes the longest ruling Monarch in British History.  America has shared a very special relationship with the United Kingdom throughout her entire reign.
The President serves as Commander and Chief and Head of State. Traditionally, the First Lady has taken an active role in many of the "Head of State" roles serving as a hostess for the important diplomatic events that take place in social settings inside the White House in the form of State Dinners.  In the United Kingdom, The Queen only serves as the Head of State and thus, entertains along side Prince Phillip. In 1961, President and Mrs. Kennedy were invited to Buckingham Palace and in 1970 she extended an invitation to President and Mrs. Nixon. President and Mrs. Reagan had a formal dinner with The Queen in Windsor Castle in 1982. The Reagans also hosted The Queen in California in 1983 at their Ranch.
The White House has hosted Queen Elizabeth on four different occasions for State Dinners: 1957 with President and Mrs. Eisenhower, 1976 with President and Mrs. Ford, 1991 with President and Mrs. George H. W. Bush, and in 2007 for a White Tie State Dinner with President and Mrs. George W. Bush.
President and Mrs. Bush gave Her Majesty a bronze statuette "High Desert Princess" with a personal inscription on the bottom of the base. It is a replica of the original life size statue that is located in front of the National Cowgirl Museum and Hall of Fame in Ft. Worth, Texas.
President and Mrs. Bush gave The Prince Philip an exclusive sterling silver eagle box by Tiffany & Co. with personal inscription on the inside lid.
President and Mrs. Bush gave Their Majesties a leather presentation box filled with a collection of documents from the National Archives. One of the items was a copy of an original letter from President Roosevelt to her father, King George, written in 1938. There were also photos from previous royal visits and a DVD of the footage from the Queen's visit to the United States when she was Princess Elizabeth in 1951.