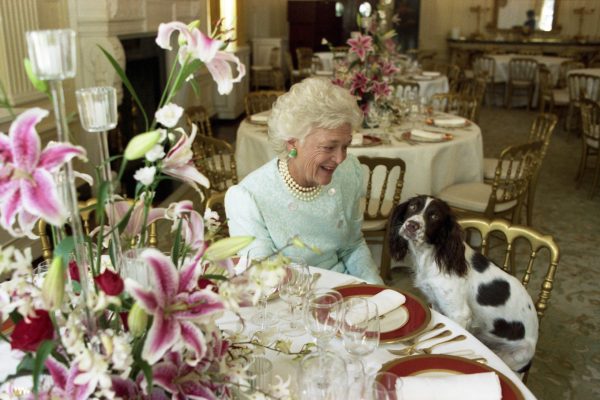 Barbara Pierce Bush was known as the "Silver Fox," her graceful façade also earned her the national role of "America's grandmother." But for many, Mrs. Barbara Bush far exceeded the expectations of First Lady. While her role as a more traditional wife was emphasized; she deserves credit for her unparalleled work literacy efforts and most importantly her refreshing, straightforward Texas candor.
She was one of the most experienced First Ladies to have ever entered the White House, serving as an integral counterpart to her husband's numerous positions of national public service starting as a young Texas Congressman. In every call of duty, there was a constant force of comfort, counsel, and support: Mrs. Bush. Her most cherished role was matriarch of the one of the most prominent Republican political dynasties in American history. Besides Abigail Adams, she is the only other woman to be the mother of two governors, a future president, and grandmother to our current land commissioner. Her devotion to family was evident by her 73-year marriage to George H.W. Bush, the longest presidential marriage in history.
Without question Barbara Bush was one of the White House Executive Residence staff's most beloved of all First Ladies.  She was known to frequent the basement of the White House unannounced and visit all the staff and personally thank them for their service.  She would ask them about their families, and she got to know each Executive Residence staff personally. They loved her because she genuinely cared for them. As First Lady, she was known for her devotion to promoting literacy, raising over $40 million to expand 1,500 literacy programs, nationwide. Mrs. Bush believed wholeheartedly in the mission: "The American Dream is about equal opportunity for everyone who works hard. If we don't give everyone the ability to simply read and write, then we aren't giving everyone an equal chance to succeed." One of her greatest accomplishments as First Lady was her part in the development of the National Literacy Act of 1991, in which she worked to ensure adults had the basic literacy skills to achieve their greatest possible opportunity.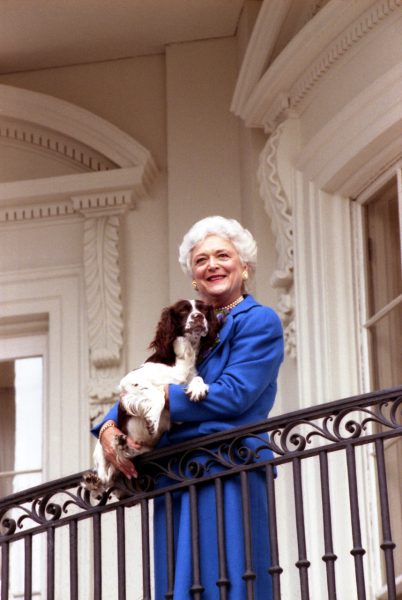 Barbara Bush was also known as a true pet lover. In fact, she authored the foreword to my book, Pets at The White House. She loved her Springer Spaniel, Millie, who was often spotted with her, even at State Dinners-sitting directly beside her. In a nod to her love of literacy, she was the first, First Lady to publish a book while in office, "Millie's Book: as Dictated to Barbara Bush." The book raised more than $1 million with proceeds benefiting her Texas-based, Barbara Bush Foundation for Literacy.
The death of Barbara Bush has not only come to signify the ending of a life well lived, it is the closing chapter on an era in which First Ladies have felt the freedom to, in many ways, just be themselves and the media be okay with it. She was blunt, witty, and not embarrassed by her grey hair, wrinkles, or her choice of footwear, often seen with foreign heads of state in her signature Keds tennis shoes.  Her triple-strand faux pearl necklace sparked a national fashion trend when she wore them the 1989 inauguration. She later said she selected them to hide the wrinkles in her neck. Perhaps the success of Mrs. Bush's ability to merely be herself reveals the it is okay for First Ladies to make decisions based on their own judgment and walk in their own truth.
Mrs. Bush left this earth the way she lived it-strong and humble with her husband at her side holding her hand. Now she rests with the angels and we honor her life, legacy and cherish her memory as our First Lady.