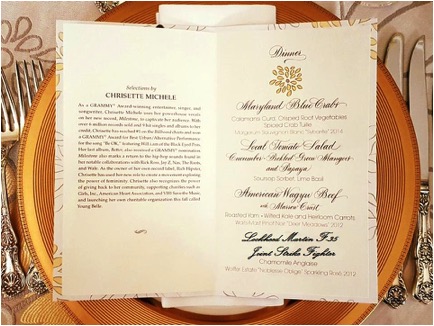 President and Mrs. Obama welcomed Prime Minister and Mrs. Lee Hsien Loong to The White House for a State Dinner celebrating the 50-year friendship between the United States and Singapore, Tuesday, August 2nd for their 13th State Dinner.
Since establishing formal diplomatic ties in 1966, Singapore is the first Southeast Asian country to have an official White House State Dinner. Like Canadian State Dinner there was another father/son connection. In 1985 President and Mrs. Reagan held a State Dinner for the current Prime Minister's late father, Prime Minister Lee Kuan Yew.
The day started with the traditional State Arrival Ceremony on the South Lawn. In a break from the formalities of the event, Prime Minister Lee stopped to talk a phone of an adorable young guest on the rope line.
Hoping to share the special day with more people, world-wide the White House used various social media platforms, such as Snap Chat, Twitter, and Instagram to provide users a rare behind the scenes look into the special event.
Notable guests included: Rosalind Brewer, President & Chief Executive Officer, Sam's Club, The Honorable Gabrielle Giffords, Former U.S. Representative, Sherrilyn Ifill, President & Director-Counsel, NAACP Legal Defense & Educational Fund, Inc., Douglas Oberhelman, Chairman & Chief Executive Officer, Caterpillar Inc., and popular actors Keri Russell and Matthew Rhys. R&B singer Chrisette Michele. The provided the after dinner entertainment.
The White House chefs and florists always go out of their way to be as creative as possible when creating the menu and visual atmosphere for the evening. This dinner was no exception as they blended elements of both countries to make the dinner and floral arrangements memorable. An elegant variety of yellow flowers were used to highlight the friendship between the two countries. The four -course menu consisted of Maryland Blue Crabs, American Wagyu beef seared in Vermont butter and dressed with roasted California-grown Asian yams, wilted kale and heirloom carrots. Peach sangria cake accented with coconut milk and kaffir lime leaves honey from the White House beehive was served for dessert to the 200 guests.