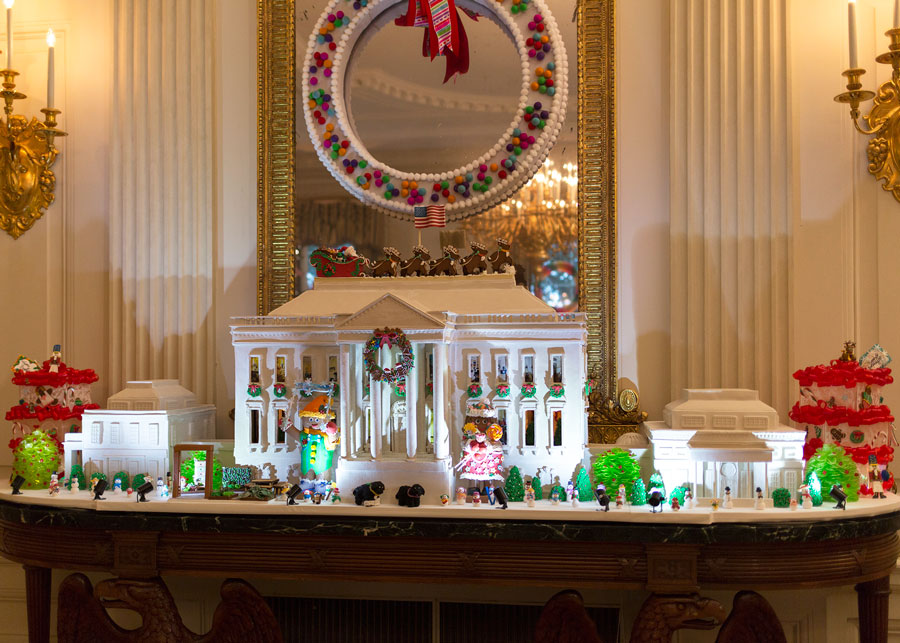 The unofficial start to the DC Christmas season begins with the arrival of the White House Blue Room Christmas Tree.  In conjunction with the National Christmas Tree Association, the Chief Usher travels to some of America's finest Christmas tree farms to find the perfect tree for the Executive Residence. This year the 19-foot Balsam-Veitch fir cross came Dave and Mary Vander Velden's Whispering Pines Tree Farm in Oconto, Wisconsin.   The now iconic horse drawn carriage, with the tree on board, was greeted by Mrs. Obama, first pets, Bo and Sunny along with her nephews, Austin and Aaron Robinson the day after Thanksgiving. The Blue Room chandelier was taken down and the White House Christmas volunteers quickly decorated the "We the People" tree in time for Mrs. Obama's official unveiling of the theme and decorations to the media.
The theme for the Obama's last White House Christmas will be "A gift for the Holidays."   Guests coming to tour the White House decorations will receive the custom tour book that describes all the decorations and rooms. There are five gift themes this year:
The Gift of Service and Sacrifice
The Gift of Education
The Gift of Good Health
The Gift of Families
The Gift of Joyful Memories
To schedule your own tour of the White House please contact the office of your member of Congress.