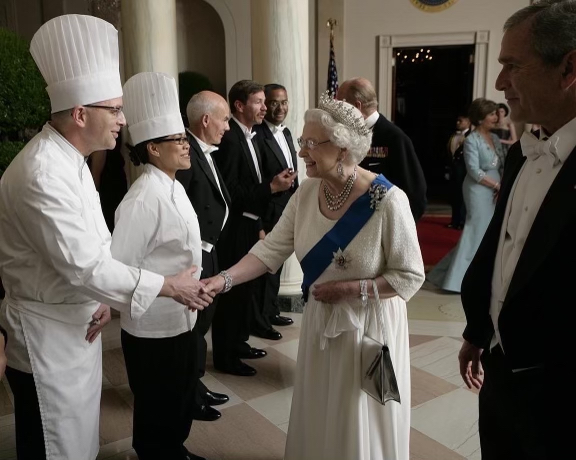 Queen Elizabeth's last state dinner at the White House was in 2007. She extended a very special invitation to the residence staff after that special occasion
Queen Elizabeth II was no stranger to the United States and the White House. She first visited in 1951 as a young princess, meeting with President Harry Truman. As queen, she met with every American president in either the U.S. or Britain from Dwight Eisenhower through Joe Biden, with the exception of Lyndon Johnson.
The queen, who died Sept. 8 at age 96 after a record 70-year reign, met with more American presidents than any other head of state. She came to the U.S. eight times on official and unofficial visits and attended five state dinners.
Queen Elizabeth personified the "special relationship" between the United States and the United Kingdom. As a sign of solidarity with our country, the queen ordered "The Star Spangled Banner" played at Buckingham Palace two days after the Sept. 11, 2001, terrorist attacks on the U.S. Days later, she broke with protocol and joined in singing the American national anthem at St. Paul's Cathedral in London, tears in her eyes.
Read the full op-ed here:
https://www.foxnews.com/opinion/queen-elizabeth-invited-white-house-staff-dinner-buckingham-palace