It's National Biscuit Month so we have to pause and reflect on how amazing the biscuits are at the White House, yes the White House. For anyone that has been fortunate enough to visit the White House for a reception (no matter what administration), there was most likely a tasty treat served in the State Dining Room, the classic White House biscuit and ham mini sandwich. Currently, the incredible White House Executive Chef Cris Comerford keeps the tradition alive with her own recipe. While we don't know Chef Comerford's exact recipe to make these amazing White House biscuits, we do have some tips from other VIP White House insiders.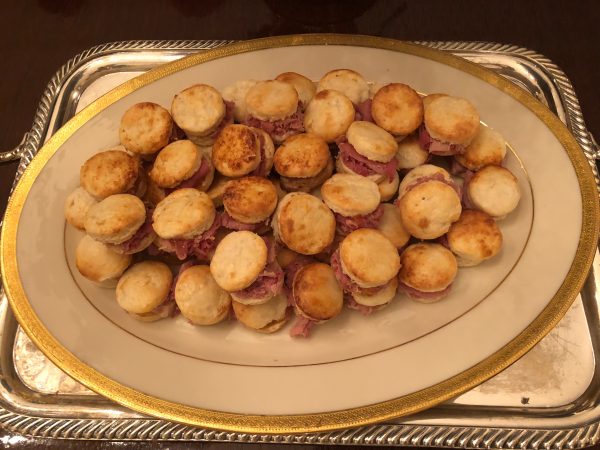 White House Biscuits, August 2018
Former White House Social Secretary and founder of America's Table Lea Berman, shared a baking powder biscuit recipe from The White House Cookbook, a Comprehensive Cyclopedia of Information for the Home, first printed in 1905.
Former Executive White House Pastry Chef Roland Mesnier revealed his own recipe for making biscuits in one of his many books Dessert University
"Tender baking powder biscuit dough is wonderfully useful in making a variety of breakfast pastries and desserts. Quick to mix and bake, it can be sweetened and rolled into scones, cut to fit the top of a cobbler, or baked into rounds and used for fruit shortcakes. Traditionally this dough is eggless, which contributes to its meltingly soft texture. I always liked the texture, but as a Frenchman used to rich-tasting baked goods I found this typical American dough a little flavorless. To get a richer-tasting biscuit dough that would still bake up soft and crumbly like a biscuit, I turned to a typically French method for adding flavor without changing texture."
Even if you have not worked in the White House or attended a reception there in DC you can still bring the White House to your house. While some of us do not have a lot of time to cook elaborate spreads like the chefs at the White House, I have found a way around it.  On a recent girls trip to Charleston, South Carolina my friends wouldn't leave without making one last stop to the famous Callies Biscuits. The tiny shop was full of all sorts of wonderfully flavored biscuits, and I have to say those biscuits did not disappoint!  Most importantly, they can ship them right to your doorstep! So enjoy a nice warm biscuit just like the First Family for breakfast, lunch, dinner or all three because September is National Biscuit Month!