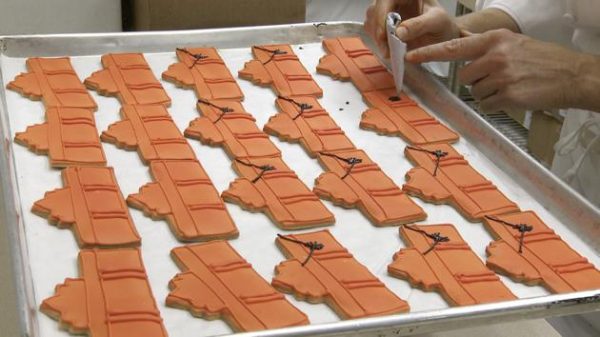 October is here and its time to start thinking about Halloween!
Here is a past presidential cookie recipe just in time for Halloween parties and gatherings for all to enjoy. This tasty cookie recipe came from White House Pastry Chef Bill Yosses for the Halloween cookies used in the trick or treat bags handed out by the Obamas.
White House Halloween Sweet Dough Butter Cookie
1 pound sugar
1 teaspoon vanilla
2 pounds butter
1 teaspoon salt
3 eggs
3 pounds all-purpose flour
Mix the butter and sugar till soft and well beaten. Then add eggs, vanilla, salt and half the flour. Beat on slow speed till mixed, then add the rest of the flour and mix until incorporated. Push flat onto a cookie sheet and refrigerate overnight. Roll out to one-quarter inch thick and cut out cookie shapes with cookie cutter.
Bake at 350 degrees for 14 minutes and then allow to cool before serving.
What a great Halloween treat. Enjoy!